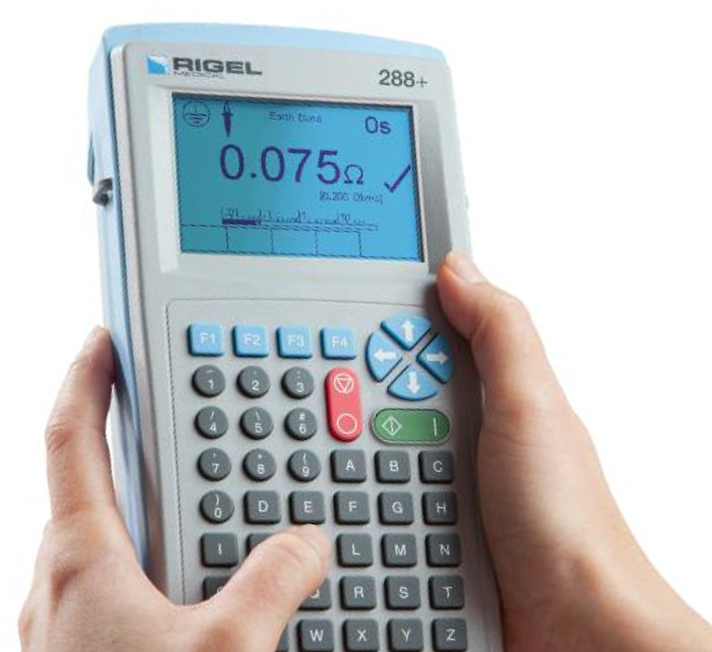 Rigel 288+
Electrical Safety Analyzer
The smallest and most flexible electrical safety analyzer on the market with battery powered earth/ground bond, insulation and leakage testing.
The Rigel 288+ electrical safety analyzer offers an accurate and fast solution for meeting international and local safety standards.
Enjoy complete freedom to move around, without the need for mains voltage, thanks to the new battery powered test capability. Using standard AA batteries, tests can be carried out for insulation, earth/ground bond testing, and touch or point-to-point leakage current testing.
Additional 50VDC and 100VDC insulation tests, to complement the 250VDC and 500VDC tests, make the 288+ conform to growing manufacturer's requirements for testing 24VDC and 48VDC operated devices such as operating tables, lights and mobile X-rays.
Combining automatic and manual test sequences, data storage and direct printing facilities, the Rigel 288+ remains the most compact safety analyzer of its kind. An automatic warning of secondary earth/ground paths makes users aware when invalid readings are made, ensuring correct and accurate test results first time, every time.
To further improve the portability and flexibility of the 288+, a range of accessories, including Bluetooth printers and barcode scanners, are available.
The Rigel 288+ is available in a wide range of power configurations, to suit local requirements, and conforms to several international standards, including IEC 62353, 60601-1, NFPA-99 and many other local variants.